Discussion Starter
·
#1
·
It's going to be a few more weeks before I can get full blown with this build, but I'm going to go ahead and start this anyways. The whole idea behind this build is to build a very capable yet streetable offroad daily driver from junkyard parts. A daily driver designed for hardcore weekend wheeling, thus HWW was born (Hardcore Weekend Wheeler).
The parts, 94 xcab, 96 2wd xcab frame, 4.0l engine and 5 speed trans from the same 94 truck the xcab was from, hybrid 1350/1354 doubler, 79 full width 44, custom beadlocks. I have a Dana 60U, but found it won't really work with my plans, so I'm building a hybrid full width 8.8 with 9" shafts and 9.75" disc brakes. The idea was to run full float rear, but the full float hubs won't fit the 5 lug rims I will be using. So I will be using a full width 8.8 center for driveshaft ground clearance, 9" axle shafts that has the outer retainer in case a shaft breaks, and 9.75" disc brakes, which should slide right on the 9" axle shafts. For those that are unfamiliar with the 9.75, they are found under 97+ f150 and expeditions. If this was not a C clip axle, I would run it, as it has 34 spline axle shafts stock.
The cab was originally a buddy of mine's that I bought off him with clear title to do a trade for a boat with another buddy. That deal fell through, so I decided to do a build. At the time I bought just the cab complete interior, but no hood or fenders. Later I made a deal with him to do some V8 swap work for the motor, trans and ECU/harness that was originally from the 94 4x4 cab.
Since I had the cab, but no frame, I decided to use my 96 2wd ranger lowrider frame. I knew I wanted a solid axle up front, and the 2wd frames are easier to SAS, so it only made sense to use it. Later, I plan to build a custom tube frame truggy for the 96 cab. A tube bed will be built on the soon to be shortened frame.
Here is the 96 ranger frame being pulled...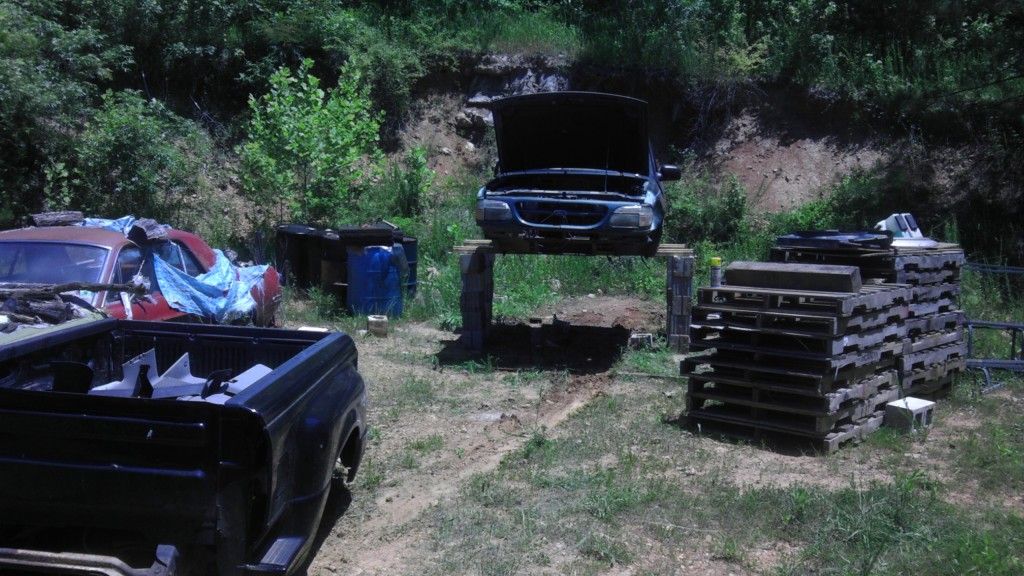 Here is the frame and bed, which will be pulled...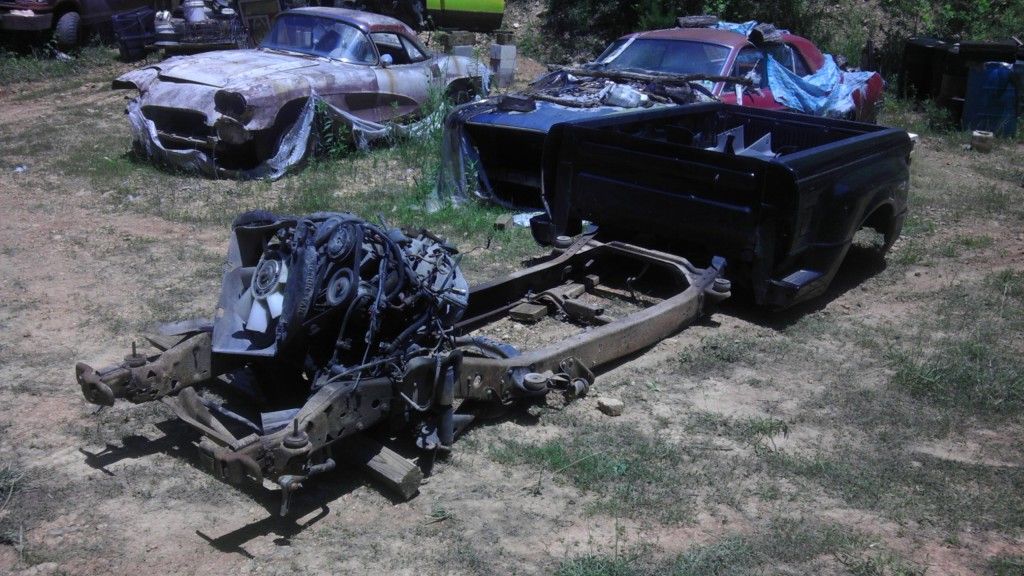 Here is the 94 cab setup for receiving the frame...
Here it is sitting on the 96 frame...
In the background you can see project Fordzilla, the 90 4x4 f350 that donated its front axle to SVT, which will be built with a diesel engine and end up a nice tow rig. Not much else has been done, there is an explorer 8.8 under the rear now, but it will be swapped when the hybrid axle is done...
Price tag:
cab, motor, trans $300
frame. FREE
79 dana 44 hp front axle $150
fw 8.8 with 4.56 gears $50
Dana 44 hp 4.56 gears $100
36" irok tires 90% set of 5 $400
dana 44 series 4 carrier $30
badlands 12k winch $250
DIY beadlocks $75
97 motor $185
M90 supercharger $25
M90 rebuild kit $60
Total invested so far $1,625
I originally planned for this to be a quick build, but with all the other projects going on, it's turned into a relatively slow build...
SVT