This thread is for any questions or comments about Ranger Roundup. Please keep general chat to a minimum.
Ranger Roundup 2013 - Official Events Schedule
Friday
- July 19, 2013
Fun Ford Weekend Open Drag Racing [Test & Tune] (12:00AM - 5:00PM)
Fun Ford Weekend Jackpost Drag Racing (TBA)
Meet & Greet Party at Drury Inn. Free Food & Drinks to all hotel guests (5:00PM - 12:00AM)
Saturday
- July 20, 2013
Ranger Roundup Starts (8:00AM)
Ranger Roundup Judging (10:00AM - 1:00PM)
Fun Ford Weekend Car Show Judging (10:00AM - 1:00PM)
Autocross Event (9:00AM - 4:00PM)
Drag Racing Event (10:00PM - 6:00PM)
Car Audio Competition (1:00PM - 3:00PM)
Fun Ford Weekend Car Show Awards (4:30PM - 5:30PM)

Top 25
Club Participation (Ranger Roundup)
Under 21 (Ages 21 and Younger)
Track Top Pick

Oval Track Parade Lap (5:30PM - 6:30PM)
Dinner Caravan & Ranger Roundup Awards Ceremony at Dave & Busters (6:30PM - 10:00PM)
Sunday
- July 21, 2013
Fun Ford Weekend Starts (8:00AM)
Fun Ford Weekend Car Show (10:00AM - 5:00PM)
Best Modified
Best Lowered
Best Lifted
Best Display
Fun Ford Weekend Awards Ceremony (4:30PM - 5:30PM)
Important Note:
Long pants and closed toe shoes are required if you plan on participating in the autocross and drag racing events. SCCA approved helmets are requires for autox. Helmets are only required if your car is faster than 13.99 1/4 mile time for drag racing.
Lodging Information
Drury Inn & Suites Fairview Heights
12 LUDWIG DRIVE FAIRVIEW HEIGHTS, IL 62208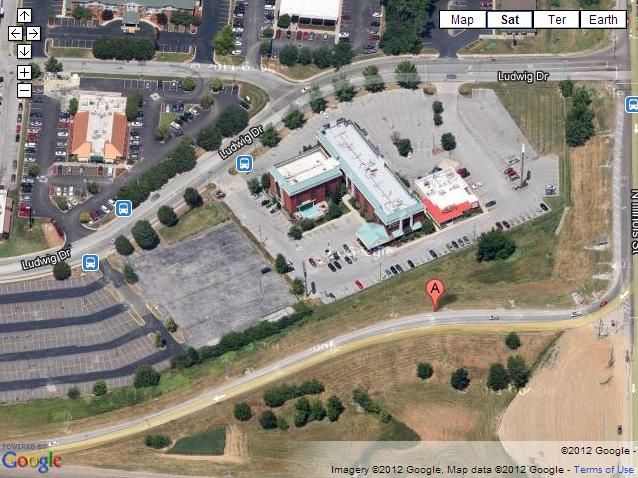 Telephone:
(618) 398-8530
Address:
12 LUDWIG DRIVE
FAIRVIEW HEIGHTS, IL 62208
Thank you for allowing Drury Inn & Suites Fairview Heights to be a part of your next great event! We are looking forward to seeing you soon and we are ready to uphold our reputation for great service & value. Rooms have been held for your group and to make reservations, please click on the link below.
http://www.druryhotels.com/Reservations.aspx?groupno=2164813
As you might have heard, The Extra's Aren't Extra at Drury Hotels! In addition to the great rate, here are some of the amenities our group will enjoy:
FREE HOT QUIKSTART ® Breakfast - At Drury, "hot" means Belgian waffles, scrambled eggs, biscuits & gravy, sausage and more.
FREE 5:30 KICKBACK® - From 5:30-7:00 pm each evening, kick back, relax and enjoy a rotating menu of free hot food and cold beverages.
FREE Free Long Distance - One hour every room every night.
FREE Wireless Internet Access - High speed Internet in all rooms and the lobby.
FREE Soda and Popcorn - From 3:00 pm to 10:00 pm every night in the lobby.
Plus much more!!
Please make your reservations by Wednesday, June 19, 2013 to receive your group rate. Reservations made after this date will be subject to prevailing rate and availability.
--------------------------------------------------------------------------------
UPDATED
Little over a month to go folks. Looking forward to seeing everyone there. Don't forget to RSVP and join the awards ceremony at Dave & Buster's on Saturday night.
Here's a list of some resources located near Drury Inn.
Self Serve Car Wash
Crown Car Wash
(3 Miles From Hotel)
406 Hartman lane
O'Fallon, IL
[Driving Directions]
Bay Wash Car Wash Inc
(6 Miles From Hotel)
2362 Old Collinsville Rd
Belleville, IL 62221
[Driving Directions]
Tire Repair
Dobbs Tire & Auto Center
(2 Miles From Hotel)
50 Lincoln Hwy
Fairview Heights, IL 62208
[Driving Directions]
Auto Parts
Auto Value: Al's Automotive Fairview
(1 Mile From Hotel)
104 Ludwig Dr
Fairview Heights, IL 62208
[Driving Directions]
Autozone
(2 Miles From Hotel)
918 Lincoln Hwy
Fairview Heights, IL 62208
[Driving Directions]
Restaurants (Walking Distance)
Applebee's Neighborhood Grill
47 Ludwig Dr
Fairview Heights, IL 62208
Joe's Crab Shack Fairview
51 Ludwig Dr
Fairview Heights, IL 62208
Olive Garden
25 Ludwig Dr
Fairview Heights, IL 62208
Houlihan's
15 Ludwig Dr
Fairview Heights, IL 62208
Ginger Buffet and Grill
53 Ludwig Dr
Fairview Heights, IL 62208
Red Lobster
110 Ludwig Drive
Fairview Heights, IL 62208
Cinema (Walking Distance)
Wehrenberg Theatres Inc
50 Ludwig Drive
Fairview Heights, IL 62208
(618) 398-8384
[
Showtimes
]
Fast Food
Starbucks
134 St Clair Square
Fairview Heights, IL 62208
[Driving Directions]
White Castle
10849 Lincoln Trail
Fairview Heights, IL 62208
[Driving Directions]
McDonald's
6300 N Illinois St
Fairview Heights, IL 62208
[Driving Directions]
KFC
1717 U.S. 50
O'Fallon, IL 62269
[Driving Directions]
Krispy Kreme Doughnuts
5812 North Illinois Street
Fairview Heights, IL 62208
[Driving Directions]
Grocery & Convenient Stores
Schnucks Grocery
625 Lincoln Hwy
Fairview Heights, IL 62208
[Driving Directions]
Target
3400 Green Mount Crossing Drive
O'Fallon, IL 62269
[Driving Directions]
Save-A-Lot
4515 West Main Street
Belleville, IL 62226
[Driving Directions]
Walgreens
6505 N Illinois St
Fairview Heights, IL 62208
[Driving Directions]